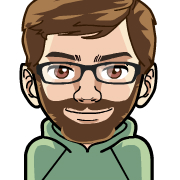 G.B. Gillean lives in the Chicago suburbs with his wife and rambunctious toddler. He is fascinated with history, politics and the occult but would give up all three for a chance to live on the road.
G.B. Gillean wants to live in a world where travel is all but mandatory. Gillean has been writing since the age of 10, when he won 2nd place for a short story.
When he's not wasting his talents at his 9-5 job, you can find him playing with his son, daydreaming about his story and characters and video gaming.
His current short story comes out in daily journal entries that he writes instead of eating lunch.
Recent Posts:
6-15-15

It actually worked! Well... almost. Dorian has been teaching us how to bridge the gap between worlds, and earlier today I actually found myself in the Professor's research camp. Apparently, he had made it back before us, but must have left long ago. Quintin will be pleased to know he survived. […]

6-11-15

The founder actually had an original tapestry! At least if his account is to be believed. The first people, after discovering the ability to travel, quickly realized the need for regulation and standards. The first concern was deciding who could create these bridges, and so the Scribe's Guild was […]

6-10-15

This book is fascinating. I always assumed that, as most great civilizations, our history was harsher than is often portrayed. No group actually desires being the villains. However, according to this, we are on a Roman level of revisionism. The first people devised the ability to travel between […]
Do you enjoy reading stories from G.B.Gillean? Get all his stories and updates direct to your inbox by signing up below.
We will never give away, trade or sell your email address. You can unsubscribe at any time.